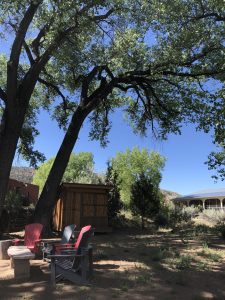 The phone rang. It was my neighbor from down by the river. I've worked for them before taking some deadwood from high up in their sprawling bosque cottonwood trees. The word "bosque" [BO-Skay] literally means forest, but here in northern New Mexico it refers to the cottonwood forest in the flood plains of the rivers and springs of the high desert. The cottonwood tree found there is the populus fremontii, a broad leaf poplar tree that can grow quite large and at almost unfathomable angles. I think we all have seen that gorgeous bosque cottonwood in that parking lot in Espanola, New Mexico, where you turn off the main throughway towards downtown Espanola. That one looks like it blew over when it was a teenager, then just decided to keep growing straight up anyways and is pushing 100 years old now.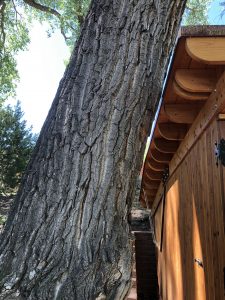 Gorgeous trees, but the bosque cottonwood can be treecherous as well. They tend to get huge and are prone to losing entire branches at a time. Sometimes large branches will just shear off suddenly or conversely they can dry rot and stay dead in the air for decades. The same happens at the end of the bosque cottonwood's lifespan—it will either dry rot in place and stay for decades or it will uproot entirely sometimes without warning. Sometimes, they give us a chance and show sign that they are about to uproot, and we are lucky when we catch it in time to spare damage to property.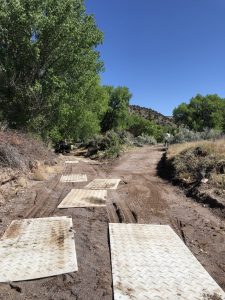 My neighbor built this beautiful chalet down in the bosque by the Rio in the shade of one of their many large cottonwoods. When it was done being built the chalet was about 6 or 8 inches away from the tree. After a wet spring the distance closed to within an inch and it seemed that the tree could uproot at anytime and crush the beautiful new chalet, which used to be their favorite new place to sleep. Well this kind of unstable tree does not lend itself to climbing due to safety concerns, and there was apparently no way to bring large equipment in close enough to the tree.
The gears spun around in my head, and after a few minutes walking around I churned up a handy solution to the problem. We would build a road into the arroyo and then drive a huge crane down the sandy drainage using our ground protectors, which are made of recycled plastic and are about the size of a full sheet of plywood, so we wouldn't get stuck.
This foot bridge over the arroyo looked solid enough, so we employed a local welder to cut the bridge off its moorings and used the crane to lift it out of the way. Next, we hand-dug the sand to make it level enough to set up the crane. That was an awful lot of work to do just to get to started working on the large tree removal, which went smooth.
We loaded up all the wood for the journey to my house, where it still remains to this day in these huge pieces. I hope to make a drum or two out of them one day, otherwise they are destined to be firewood. Can you believe no one wanted these?
We were quite happy to solve this tree issue safely and without damaging the chalet only an inch away. I was sad to see the tree go, but was treemendously proud that we were able to figure it out, even if we had to get a little creative. Call Baby Gorilla Tree Service today for your free estimate, especially if you don't see how anyone could possibly get that tree removed safely. We will always find a way to help keep your property safe. Whether in the bosque of Espanola or in the mountains of Taos, we deliver the highest quality tree service while the others might get stumped.