About Us
Anthony Alvarez, and Baby Gorilla himself, is a Maine native.  He has been a tree climber since his childhood, and remembers climbing tall white pine trees as a little kid with no fear, sometimes "borrowing" his father's hammer and large spikes when he could not reach the lowest branch.
After leaving his hometown near Bangor, Maine, Anthony attended Rochester Institute of Technology, in Upstate New York to study Mechanical Engineering.  The years of math and physics have been indispensable since he began his career in tree service.  Anthony apprenticed different tree climbers and worked in tree service for the next two years after college before starting his own tree service company in 2010, which has always been named Baby Gorilla Tree Service.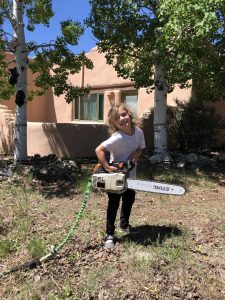 The reason for the funny name is Anthony wanted to stand out in Rochester NY, and now in Taos and Espanola NM as the creative tree sculptor in a phone book full of tree services with names like Al's or Bill's Tree Service.  The name was designed carefully to be both memorable and revealing.  You see, an adult gorilla does not climb trees, and seems to fear heights instinctually.  It is as if they knew that because there are no gorilla doctors left in the wild they would risk serious injury or even death if they climbed high, so they nest and stay close to the ground. Baby gorillas on the other hand are light, durable, and fearless exploring the world around them, climbing on almost anything.  They climb on their family's backs and in trees for play and to escape danger.  Anthony often says that if he ever grows up he doesn't plan on climbing trees with chainsaws for a living.  He claims to be acrophobic to this day, although admits the fear has subsided gradually over the years of being a tree climber.
Anthony moved to Taos, New Mexico in the winter of 2011 to help his family care for his ailing and beloved Grammie, who was suffering from dementia.  It was a labour of love, and he soon became enchanted with Taos NM, discovering its beauty with his Grammie in what would be her final years.  Though there aren't many trees that need trimming in Taos compared to Rochester NY, Anthony has decided to grow some roots in Northern New Mexico, where he currently resides.  Since such skilled work is always in high demand, Anthony has opened a new branch dedicated to servicing the greater Espanola valley and Los Alamos.  Call today for a free estimate and see why so many have come to trust Baby Gorilla Tree Service.  Anthony looks forward to growing into silverbacks with all of you!