Service Area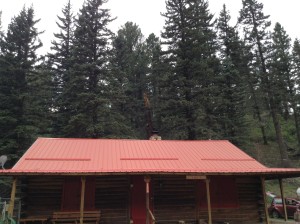 Our Taos, NM, branch has a lot of ground to cover between all of the enchanted circle.  So much that we decided to open a new branch to better serve our neighbors in Espanola, and Los Alamos.  There are so many wonderful places in rural New Mexico, and even if we forget to name your town just give us a holler to see if we service your area.
Here at Baby Gorilla Tree Service, we strive to keep our carbon footprint small, and that has allowed us to travel and work all over these United States.  We are based out of Northern New Mexico, but we still make almost annual trips out East to Maine, Boston, Vermont, Up and Downstate New York, and all along the Atlantic coast.  How do we do this?  We start with a tiny car!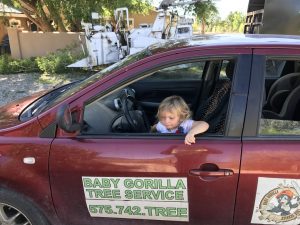 The Toyota Scion xA that you see here doesn't look like your average arborist's vehicle, but it is actually fully loaded and ready for a cross country work trip from Espanola, NM to Maine!  This isn't the only vehicle at Baby Gorilla Tree Service, but it is the main work horse and a favorite estimate vehicle when it isn't motorcycle season.  Our new bucket truck has a fantastic reach and a small enough footprint to get in tight places and is ready to drive up the hill to Los Alamos and White Rock.
Servicing all of Northern New Mexico with a branch servicing Greater Taos including Taos, El Prado, Arroyo Seco, Arroyo Hondo, Questa, Red River, Eaglenest, Angelfire, Taos Canyon, Taos Ski Valley (homeowner responsible for required permits), Talpa, Ranchos de Taos, Penasco, Vadito, Picuris Nation, Taos Pueblo, and points between!  New branch now open dedicated to Espanola, Los Alamos, White Rock, Pojoaque, Tesuque, La Mesilla, Hernandez, Abiquiu, Chimayo, Truchas, Ojo Sarco, Las Trampas, Velarde, Alcalde, and don't forget about that rad little Embudo Valley, shout out to Dixon.  Did I miss your town?  Give Baby Gorilla Tree Service a call today, and Anthony will load up the tiny car and head your way!
.