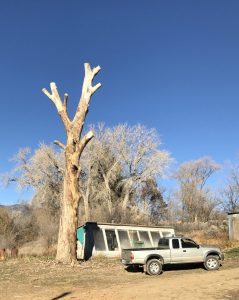 Yes, tree topping is bad. When you top a tree, you create more work down the road for yourself. Suckers that grow back grow out of the cambium layer just under the bark are very weakly attached. As they get bigger it is common to see them break off. Topping a tree also make it look ugly, and this damage is irreversible. Once a hatrack, always a hatrack.
Reducing cuts are preferable to topping cuts. Reducing cuts take the limb back to a junction or crotch. These cuts reduce the length and weight of branches as well as leave the tree looking natural, as if it just grew that way.
That said, there are a couple trees that like to be topped, and even should be–it isn't the Siberian Elm though! Any fruit tree where we really love the fruit should be topped nearly every year. Fruit trees can tolerate mostly every branch being cut off, and they still thrive. This process keeps the fruit where we can still reach it, and prevents the tree from getting overgrown. Willow trees also like to be topped, and can also tolerate nearly every branch being removed. This is partly because willows will naturally shed their branches, which many willow tree owners are well aware of—they are quite messy. When topped correctly over the years, a burl may develop on the trunk where new branches will readily grow.
Elm trees should not be topped, but rather thinned, reduced, and pruned away from buildings. Although they will survive, suckers that grow back will be weakly attached, and the tree will be ugly. This tree will need maintenance for the rest of its life, and there is no way to make it look like a tree again. Consider removing these trees instead.
Many other trees, like oak, or locust, will usually just die from the stress of topping